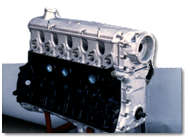 Welcome to Bavarian Engine Exchange - where precision remanufactured, upgraded BMW engines is our only business. We stock a massive inventory of BMW engines for all BMW models - including M10, M20, M30, M42, M44, M50, M52, M54, M60, M70, S70, M73, and M62. Our huge stock allows us to offer the complete line of upgraded BMW remanufactured engines and cylinder heads. Most products are in stock and ready for immediate delivery to your home or mechanic's shop. We also offer air freight service in cases where time is critical.If we are out of stock on any item, we can usually remanufacture one from core stock within 72 hours and get you back on the road fast. In most cases we will ship your new Bavarian Upgrade engine directly to your dealership or mechanic's shop as an added convenience. If you need any assistance locating a qualified facility to install your new Bavarian Upgrade engine or cylinder head, please call one of our associates for a repair referral or details about our Fly & Drive and West Coast Installation options.
All Bavarian Upgrade engines include MaxSil™ teflon coated pistons, Sealed Power piston rings, and a 5 year portable warranty with labor coverage. Bavarian's combination of optimized performance & mileage, ultra high quality & longevity, fast delivery, 5 year warranty, and unbeatable customer service & support is exactly what BMW owners need when faced with an engine or cylinder head replacement. We deliver daily to BMW enthusiasts, BMW dealerships, independent BMW repair shops, and warranty insurance companies.
All of our engines are completely remanufactured and many contain R & D improvements not found anywhere else. Examples include MaxSil™ Pistons with Tefcote™ and Maxsil DuraLiners™ (centrifugally cast, iron cylinder sleeves for all aluminum V8 applications). The heart of any engine is the pistons. MaxSil pistons are engineered for better longevity, higher performance, and improved fuel economy. They are lighter and stronger than original pistons with 13 percent silicone content to allow for tighter cylinder clearance (0.0015") than original pistons . The tighter clearances, reduced heat expansion, and reduced friction offer better performance and longevity than original pistons while protecting horsepower output for the life of the engine. In addition, MaxSil piston skirts are coated with an anti-friction, Teflon composite coating for even better performance, fuel economy, and longevity. Many of the technologies used in Bavarian engines simply weren't available when the vehicle was manufactured.
All Bavarian rebuilt engines and cylinder heads are manufactured using only factory OEM replacement parts or better. Internal parts include MaxSil™ pistons, Sealed Power piston rings, rod bearings, main bearings, timing chain & guide rails or timing belt & tensioner, oil pump, gaskets & seals, freeze plugs, silica bronze valve guides, new rocker arms, camshaft, and valve seats. All cylinder heads are precision surfaced and all valves & seats are machined with a 3 angle profile. All cylinder heads arrive completely assembled with valves, cams, lifters, and rockers - and are timed to TDC for immediate installation. Complete rebuild kits with MaxSil pistons are also available in cases where you or your mechanic prefer to rebuild the engine on site. Ask your rep for details. (All rebuild kits are sold complete - no separate items available).
Performance options available for all Bavarian Upgrade engines and cylinder heads include Bavarian's proprietary, CNC machine ported and hand polished cylinder heads, Bavarian Performance street optimized cams, and precision balancing. This option increases horsepower by 20% while preserving the 5 year warranty, extended longevity, and emission specifications of our standard Bavarian Upgrade engine. These street optimized performance engines and cylinder heads are the best value in the industry for long-term street use and mild track applications. See below for more information regarding the performance upgrade option.We are offering all of our precision rebuilt BMW engines at the prices listed below. This package includes a complete gasket kit for installation and new spark plugs. In addition, there are no core charges either! The price listed for most models is the total engine price. A few models do have core deposits. But all core deposits are fully refundable when we receive your core at our facility. Place your order today and receive all installation gaskets and spark plugs at no additional cost. Or click on Used Engines for dyno tested, quality used BMW engines with our 2 year unlimited mileage replacement warranty.

We stand behind our engines 100 percent. All of our rebuilt engines are manufactured to exact tolerances and specifications. Each engine must pass rigorous quality control standards before shipping and all engines carry a five year warranty. Although warranty issues are rare (under 1%), if there's ever a defect, we will pay the freight both ways on the replacement engine - and cover the labor to reinstall it during the first 2 years (up to five hundred dollars). Warranty replacements during years 3-5 are provided based on maximum mileage limitations and a fair prorated surcharge (See warranty terms for details). Or call 1-800-269-6585 and speak with a BMW engine specialist who will be glad to answer any questions you may have.